A pioneer in vertical dance, Retouramont is recognised by the profession as a reference in the art.
The company do not limit themselves to this discipline, they mix various kinds of art in a given territory to build a unique piece. The city gives them an incredible range of playgrounds and spaces for mouvement creation. They capture these spaces and these buildings in new ways every time. From historical monuments (Saint-Eustache church, Mont-St-Michel abbaye, Vincennes Castle…) to the most modern buildings (Singapour skyscrapers, BnF-François Mitterrand, highrise towers…), the company know how to adapt to all kinds of buildings and materials.
Thanks to their expertise and their training centre – a space for artistic residencies, the Pôle de Danse Verticale, they advise companies who want to integrate verticality in their artistic propositions.
Since 2014, Retouramont is the leader of the Vertical Dance Forum, a network of 7 choreographers specialised in vertical dance in Europe and Canada. The aim: engage a reflection on the practice of vertical dance in order to reinforce their abilities and promote the discipline to a large audience and institutions.  The VDF-network organises thematic meetings, workshops, symposia and scientific research across Europe and Canada. This project is co-funded by Creative Europe, a programme of the European Union (EU) for the 2017-2019 period.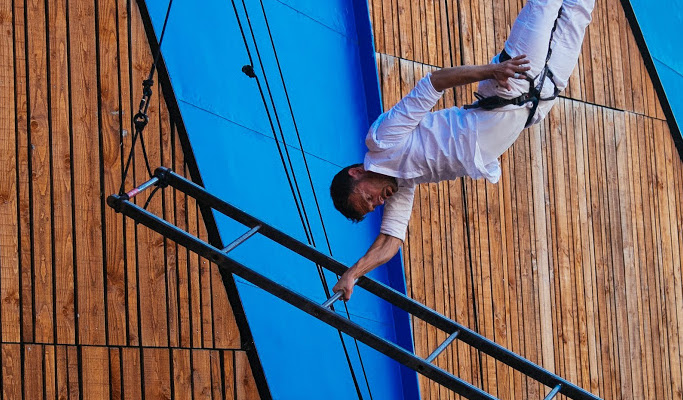 For many years, Fabrice Guillot, founder and artistic director of Retouramont, has explored choreography and develops a personal work in the company. His original experience of high-level mountain climbing opened up an infinite diversity of movements inherent to the adaptability to the rock. Covering a climbing route is finding the placements, the rhythm, the internal state…
His choreographic writing is marked by experiences which made him grasp the way to sight-read spaces and discover a gestural richness and a physicality of movement. He first met Bruno Dizien and Laura de Nercy and became a performer of the company Roc In Lichen. He also worked with Kitsou Dubois, Antoine Le Menestrel, Ingrid Temin, Geneviève Mazin and more recently with Mourad Merzouki, CCN Créteil for Vertikal (Biennale de Lyon, 2018).
As a choreographer, Fabrice Guillot opens various exploration fields – from public spaces to the intimacy of venues, from natural spaces to contemporary and patrimonial buildings…
The creation of an apparatus is the base of Fabrice Guillot's artistic research which leads him to work with architects, sculptors, circus artists… and invent new ways of rigging, to challenge gravity and movement in the third dimension.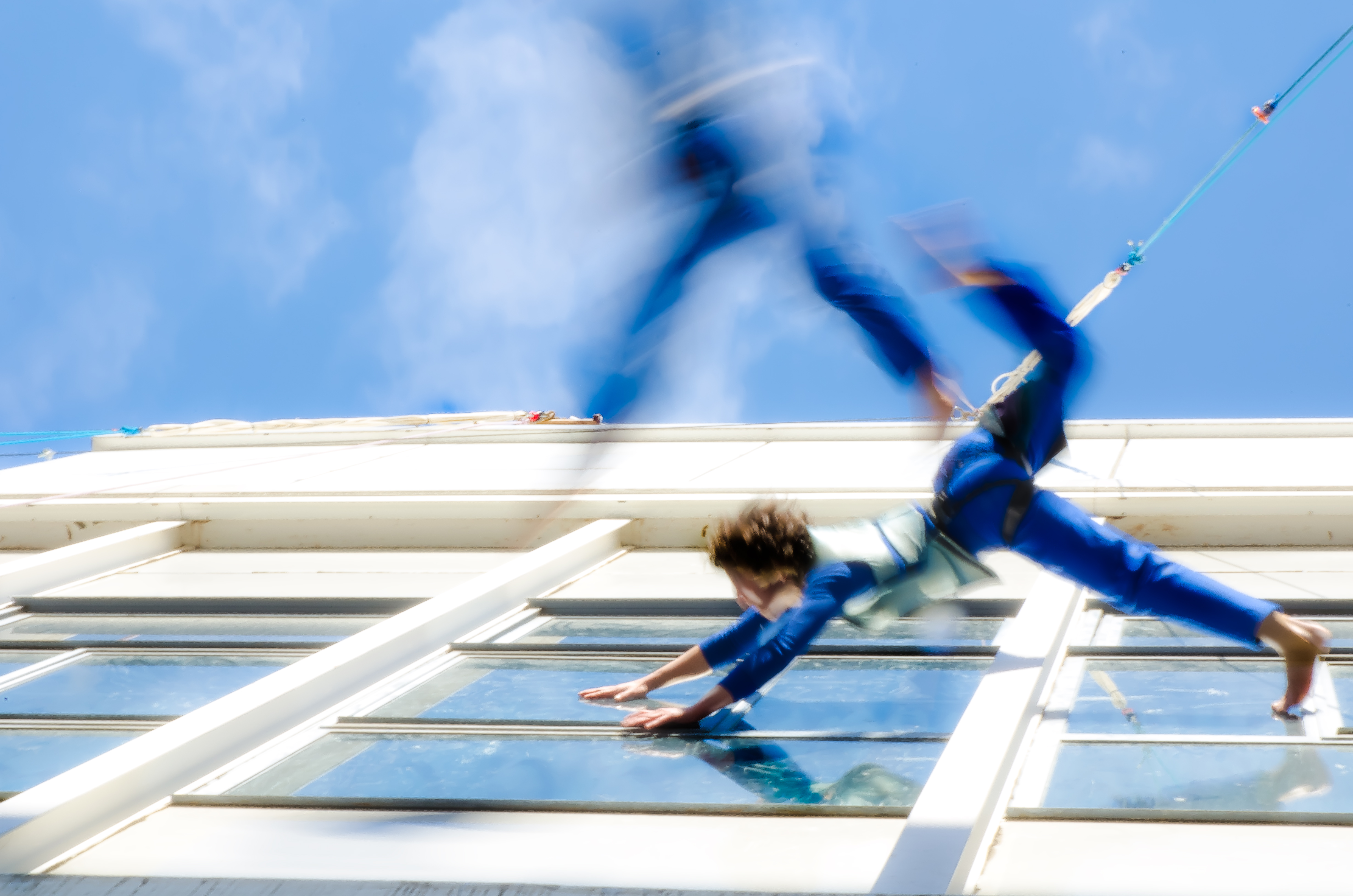 The Company are commissioned by the Ile de France Regional Department of Cultural Affairs for Aide à la Création – Ministry of Culture and Communication and the Val-de-Marne Departmental Council. They are supported by the cities of Charenton-le-Pont and Vitry-sur-Seine.
The Vertical Dance Forum project is co-funded by the European Union's Europe Creative programme.