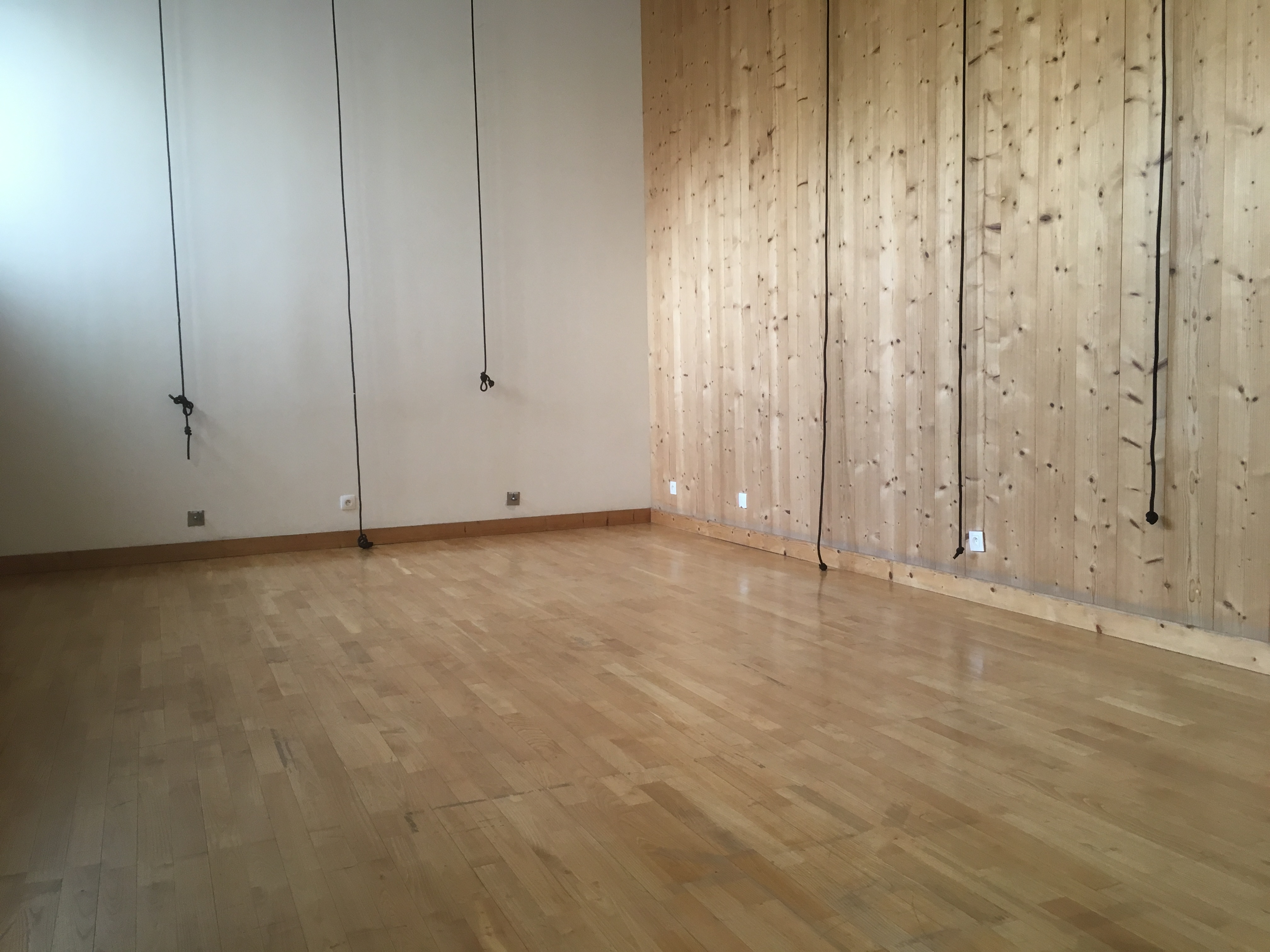 For a one-off training, a course, a workshop, a rehearsal, a photo session, a video shooting, or just to take the time to think about verticality in the calm of our space.
Description of the Pôle de Danse Verticale
Place equipped with a studio, two dressing rooms, a bathroom (shower, sink and WC) and an office/meeting area on the first floor.
Wooden floor in the studio, tiled floor in the dressing rooms and sanitary facilities.
Dimensions
Surface area: 65m2
Length: 10.5m
Width: 4.5m
Highest ceiling height: 5m
Lowest ceiling height: 3m
Studio of 50m2, meeting room/office of 11m2.
Price
From 26,50€ VAT included
Technique
9 ropes installed on the wall with anchoring at 5m, load capacity per rope = 200kg
3 central hooks spaced 2.5m apart, load capacity = 90kg per hanger
Some possible hooks on the lower parts of 3 walls of the room, load capacity = 50kg
Lumière
2 rows of 3 spots with dimmers + 2 wall lights with common dimmers
Sound
Possibility of providing a small speaker with a power of 60W Mipro MA-303 (compatible with CD, MP3 and Ipod – stereo mini jack input)
Studio equipped with power sockets that can support the power of a small stereo hifi system (equipment not provided)
Miscellaneous
Other: 1 electric kettle, 4 mugs, 1 sugar bowl at disposal.
Capacity: 9 people maximum on ropes, 19 people maximum on the ground
No elements should obstruct the exits and passage units.
It is forbidden to eat and drink in the studio.
Smoking is not allowed in the premises.