On tour
Participatory, choreographic and circus show for the public space
Quatuor and a group of inhabitants – outdoor/indoor – night – 45min
Building collectively is our driving force!
Dancers and circus performers of the company and inhabitants form a group that embarks on a joyful and rigorous ascension ritual. The night opens the possibility of a huge consequence to movement. The gigantic shadows projected on the walls enter into a dialogue with an action the size of the body to create a play of scale to the dimension of the space of representation.
The work of light guides the gaze in a spatial re-reading of the site by zooming in on an isolated action in the void that suddenly widens to embrace the entire space.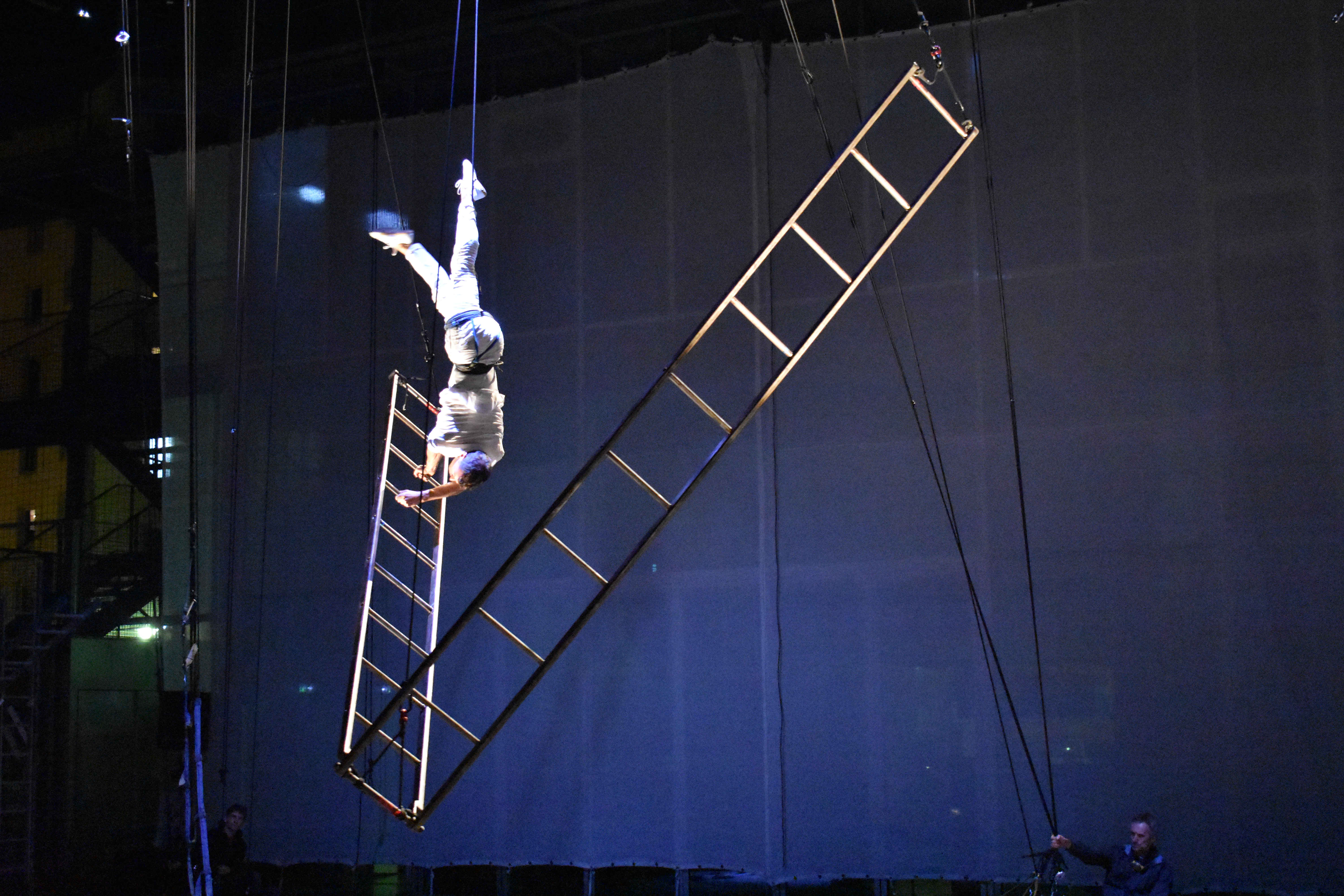 All the steps and gestures of this construction are the workings of a collective organisation where each action, each individual is essential, and the basic tool is the ladder. Ladders are our crossing tools. They allow us to rise from the ground and redesign the play area.
Partners
Producers: National Choreographic Centre and University of Orléans, City of Pau – MJC Berlioz, Le Centre Culturel Le Rive Gauche de Saint Étienne- du-Rouvray, L'Atelier 231 – Centre National des Arts de la Rue de Sotteville-lès-Rouen, Ville de Bagneux, co-production by CCN de Créteil and Val-de-Marne/Compagnie Käfig – direction Mourad Merzouki, as part of the Accueil Studio, La Cité des Arts – Ile de la Réunion, with the support of the Espace Culturel Multimédia Le Chaplin, as part of the Aide à la Création.
Residencies: La Briqueterie – Centre Développement Chorégraphique du Val-de-Marne (94), Le Plus Petit Cirque du Monde – Centre des arts du cirque et des cultures émergentes à Bagneux (92), Metalovoice – La Transverse à Corbigny (58), creative residence at the studio of the Association NA/Compagnie Pernette -Friche Artistique de Besançon (25), La Cascade – Pôle National des Arts du Cirque à Bourg Saint Andéol (07).
Retouramont is commissioned by the DRAC IDF – Ministry of Culture and Communication. Jeux d'Échelles receives support from the Fonds de Soutien à l'Initiative et à la Recherche d'Arcadi Île-de-France (Support Fund for the Initiative and Research of Arcadi Île-de-France).