On tour
4 dancers and a group of inhabitants – Participatory show for public space
(outdoor, by night, 45 min )
Dancers and circus artists, along with inhabitants, will form a group sharing a playful and rigorous vertical ritual.
All the stages and gestures are the inner workings of a collective organisation where each action and individual are essential.
The work of light guides the gaze in a spatial reading of the site by zoom on an isolated action in a vacuum that widens from one to embrace the entire space.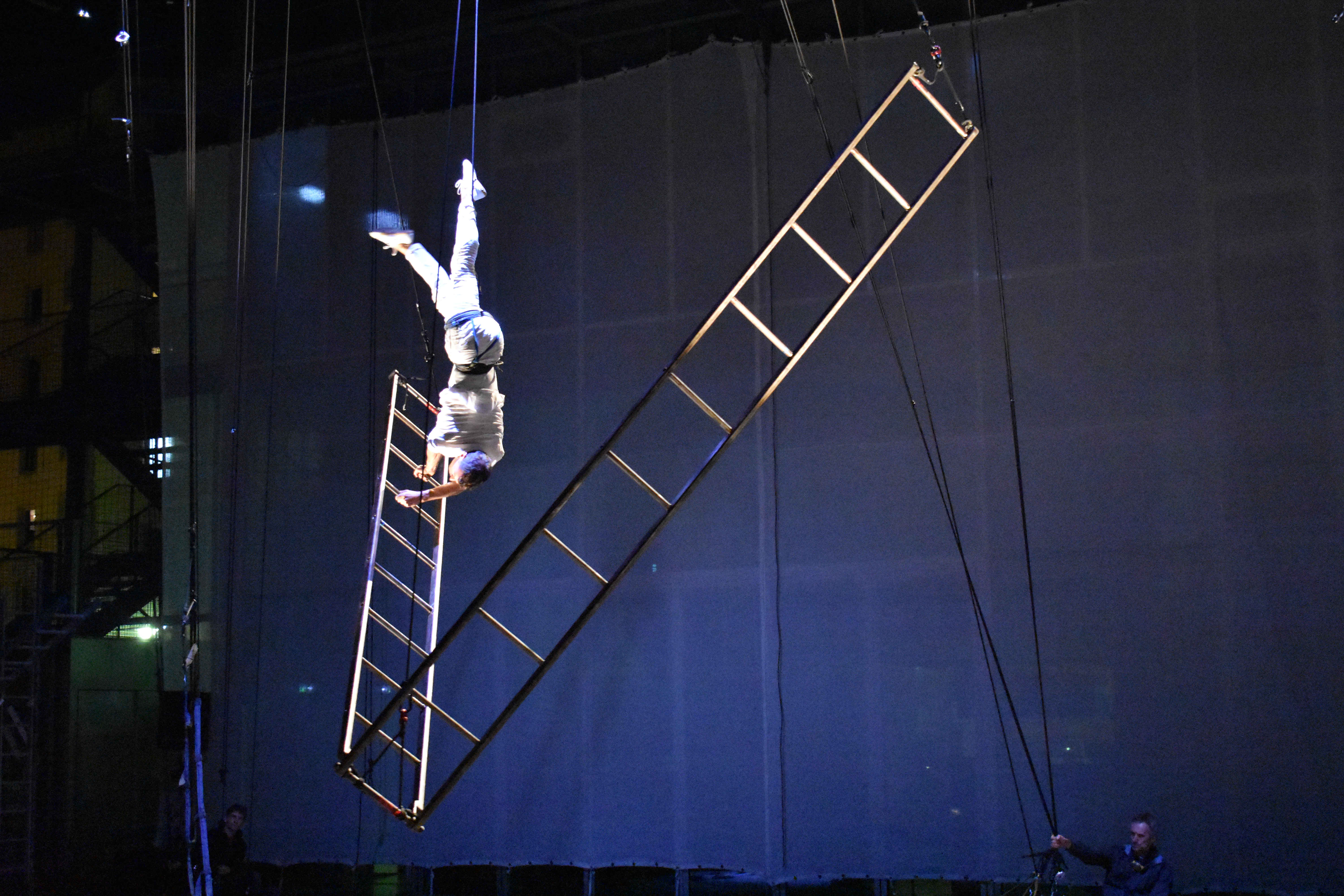 All the steps and gestures of this construction are the workings of a collective organization where each action, each individual is indispensable, and the basic tool is the ladder. Ladders are our crossing tools. They allow us to rise from the ground and redesign the play area.
Producers: National Choreographic Centre & University of Orléans, City of Pau – MJC Berlioz, Rive Gauche Cultural Centre in Saint Étienne-du-Rouvray, City of Bagneux, Atelier 231-CNAR in Sotteville-lès-Rouen, Espace Culturel Multimédia Le Chaplin à Mantes-la-Jolie, National Choreographic Centre in Créteil Val-de-Marne, the Cité des Arts – Reunion Island. Residencies at: La Briqueterie – National Choreographic Centre of Val-de-Marne, Le Plus Petit Cirque du Monde – Circus and emerging cultures Centre in Bagneux, Metalovoice – La Transverse in Corbigny, Associationn NA/Company Pernette -Friche Artistique in Besançon, La Cascade – National Circus Centre in Bourg Saint Andéol .
Retouramont is under a convention with the Regional Office of Cultural Affairs in the Île-de-France Region – Ministry of Culture and Communication, and with the County Council of Val de Marne.
Jeux d'Échelles receives funding from Arcadi Île-de-France for supporting initiative and research.
The company is supported by: County Cuncil of Val-de-Marne, the Region of Ile-de-France (Paris and surroundings), the Regional Office for Cultural Affairs of Ile-de-France, the French Ministry of Culture and Communication / DGCA, the SACD «Circus Process».
Retouramont is under a convention with the Regional Office of Cultural Affairs in Ile-de-France Region – Ministry of Culture and Communication